Choose the perfect head piece!
It's common knowledge that a bride's beauty is solely determined by how she appears in her gown. The smallest details of her appearance seem to spark the most debate. Her designer lehenga, as well as her glitzy makeup and dazzling jewellery, make her look absolutely stunning. Due to its appearance in several high-profile Bollywood and Lollywood weddings, the traditional bridal hair ornament known as a matha patti has recently made a comeback. With the help of this stunning piece of bridal headgear, you can transform from a regular woman to the most beautiful bride in just a few minutes!
If you're having trouble deciding on a single bridal Matha Patti design, you can get some inspiration from us. We're here to guide you on the best five designs that will amp up your bridal look.
Floral Matha Patti
Floral Matha Patti's are a new rage this wedding season. From you mehndi too your sangeet looks, incorporate a floral head piece in your mehndi look and make a statement this wedding season.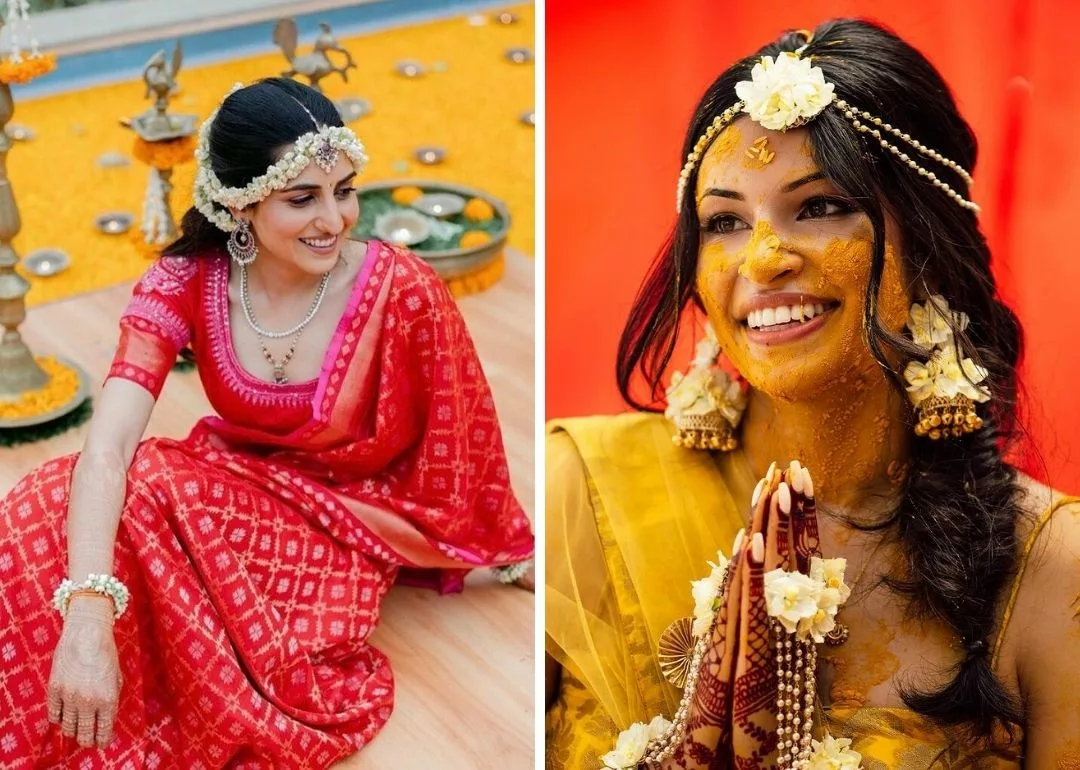 We are incredibly impressed by these brides who have gone to such great lengths to ensure that their attire is impeccable and their look stands out with these floral head pieces. You can absolutely never go wrong with floral jewellery and they have proved it.
Polki Matha Patti
A bronze Polki Matha Patti design with multiple ghungroos is a classic that never goes out of style. For all the brides, a polki Matha Patti is all you need to give your look a touch of royalty. You can now accessorise your elaborate designer bridal lehenga with these lovely head pieces patterns.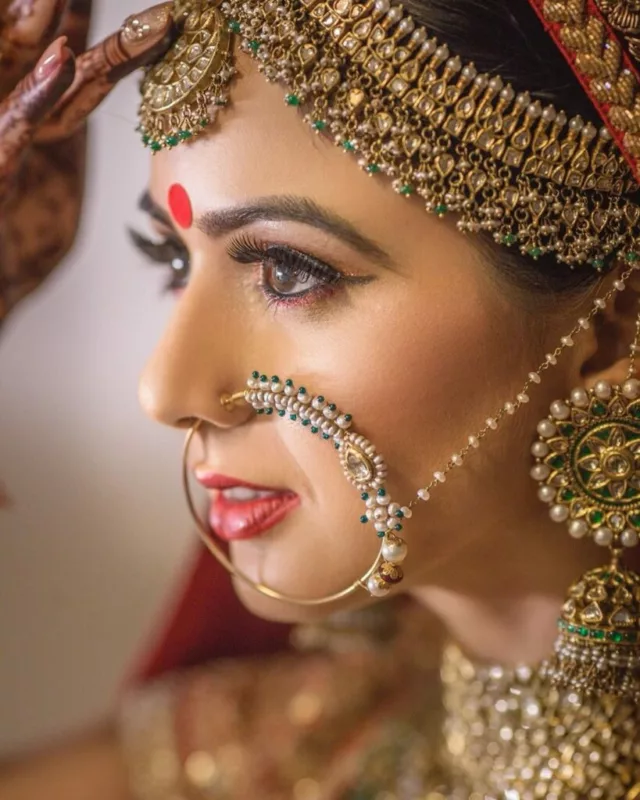 This bride looks absolutely stunning, wearing a polki head piece, a beautiful hair accessory for a traditional Asian wedding. Remember to capture the moment with a quick photo, as this stunning bride did, so you can cherish it as one of the images that best exemplifies your royal beauty and makes you proud. If you are looking to buy polki jewellery, visit our shop or order online!
Kundan & Pearl Matha Patti
The centuries-old practice of ornamenting one's forehead dates back to ancient India. Some brides chose elaborate Matha Patti collections, while others chose simpler styles. Because of the pearls that adorn them, these head pieces have the appearance of a Kundan bindiya. If you don't want a heavy bridal head piece, a simple kundan and pearls matha patti is your go to option!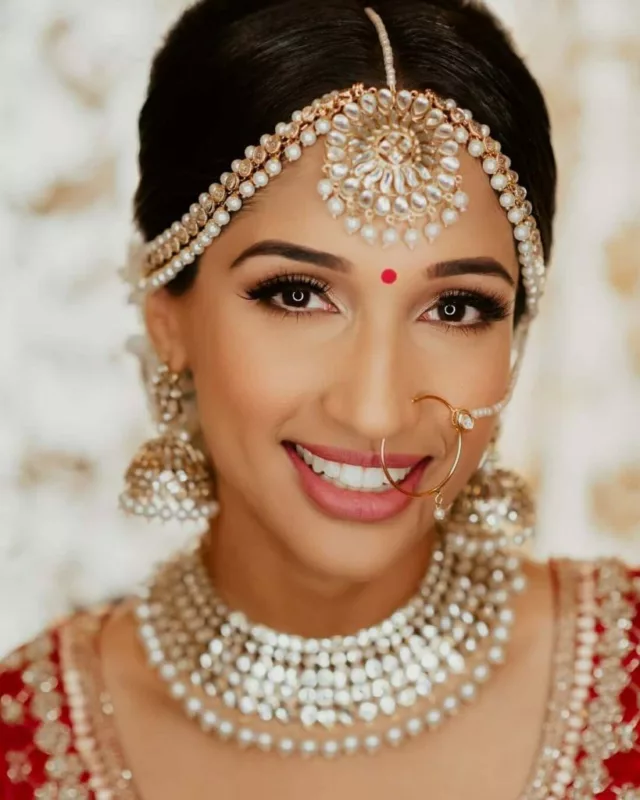 The bride is wearing a golden and stone-studded Matha Patti that is double-stringed and absolutely stunning in this image. You must wear the stunning Kundan if you are attending a wedding or you are the bride. It's also a lovely addition to an ethnic outfit with embroidery. Making a lasting first impression by pairing her Kundan jewellery with this timeless bridal head set, this bride is looking stunning!!
Heavy Matha Patti
If you are a bride who likes heavy royal bridal looks, a heavy kundan, polki, diamond polki or jarao matha patti should be your go to option. Rather than opting for a simple bindiya, a heavy head piece should be your choice to make your bridal look reach new heights or beauty and style!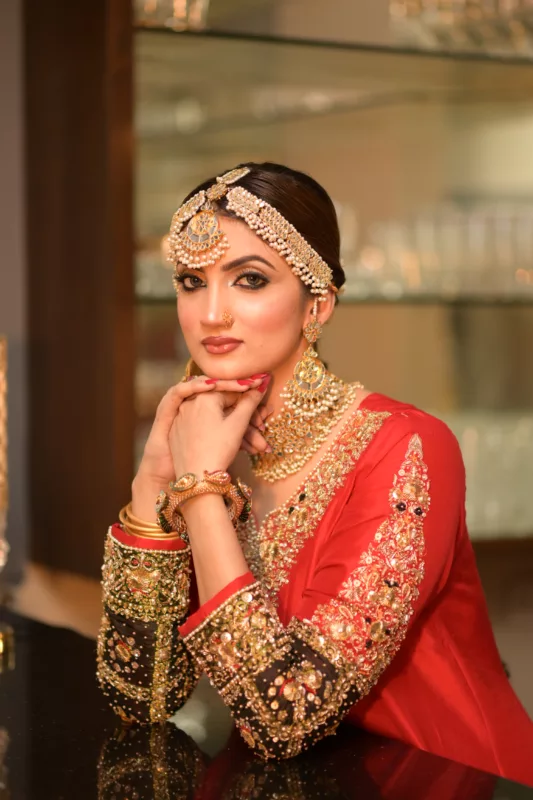 This stunning bride appears to be a princess in her heavily designed Matha Patti, which is embellished with Kundan work and pearls. Both the chunky Kundan strand and the oversized Kundan tika are beautiful on their own, but when combined in this portrait, they are stunning. This bride's head piece is striking in both its modern aesthetic and the attention to detail that went into its creation. Given the significance of the occasion, she has wisely chosen to accessorise her head piece with matching heavy jewelry. This semiprecious stone and pearls looks stunning when paired with her ravishing red bridal lehenga. It works out perfectly.
Multi Lair Matha Patti
A multi lair Matha Patti is a perfect choice for the brides who don't want too heavy look but also at the same time wants to look bridal-ly enough. With pearls strings combined with a polki or kundan tika, gives the perfect balance of style and delicacy and makes it a magnificent hair accessory. Incorporating this stunning matha patti pattern into your wedding day ensemble has the potential to significantly improve your overall appearance while also giving you an air of ethereality.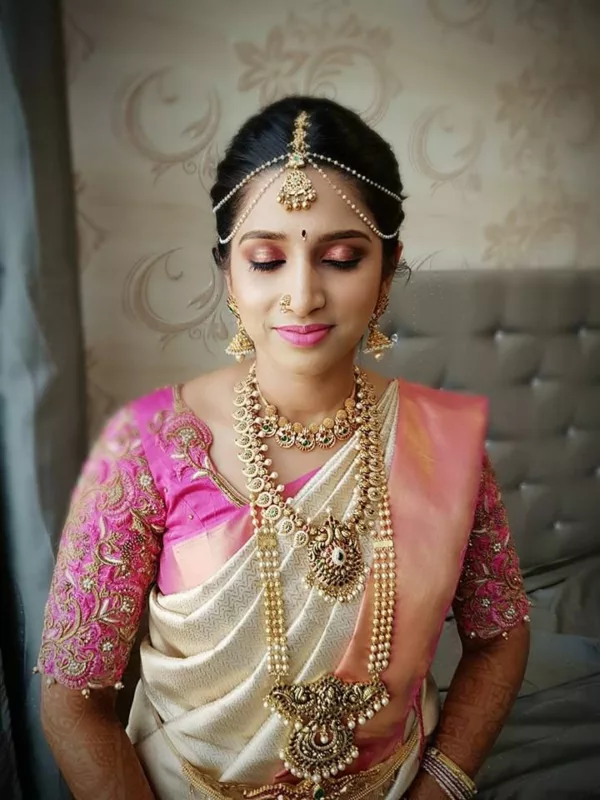 This multi-layered headpiece made of Kundan and pearls, adds a subtle sophistication to your overall look. This lovely bride has given her traditional Matha Patti a modern twist by tying a hair bun. Put on a gold brocade Banarasi saree and a Kundan necklace to catch everyone's attention at the same time. The combination of the two will have the desired effect.
In Pakistan, MKJ has a huge collection of Ethnic and Turkish jewellery. With a wide range of jewellery, MKJ is providing top quality Turkish and Ethnic jewellery in Pakistan. Order yours now or visit our outlet.